Thursday, September 28, 2006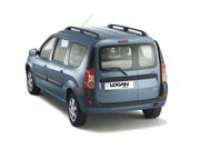 Two years after the introduction of Logan, which has already achieved sales in excess of 330,000 cars, Dacia is to extend its range with the launch of Logan MCV (Multi Convivial Vehicle). Logan MCV is an extremely spacious estate with a large load capacity that comes with all the acclaimed strengths of Logan Saloon plus a modular interior layout and enhanced versatility.
The new model can seat up to seven adult passengers and shakes up the estate vehicle market in the same way that Logan revolutionized the world of family saloons. Following its unveiling at the Paris Motor Show, Logan MCV will go on sale from October 2006 in Romania and from early 2007 in Dacia`s other major European markets.
Like the saloon version, its powerplant range includes the 1.5 dCi diesel engine, a genuine benchmark in the realms of driving pleasure and fuel consumption. The car also comes with a three-year or 100,000km warranty (in most European Union countries). In perfect keeping with the Logan spirit, its price range represents incomparable value for its specification.